I'm SO glad this event has been expanded, updated, and is happening again! I didn't catch many of the episodes the last time around… and, to be honest, I still wasn't ready to get all academic about cancer. Again.
I had lost my dad to cancer a few months prior and was still feeling pretty beaten by the emotional toll that cancer takes. I lost my mom to cancer (and the conventional treatment of cancer) a few years earlier.
A few more family members and very close friends have succumbed to cancer and its conventional treatment in recent months, too.
It seems to only be getting worse.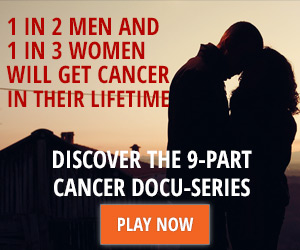 The World Health Organization has stated that 1 in 2 men and 1 in 3 women alive today will face a cancer diagnosis! It's virtually guaranteed that cancer will affect us or someone in our closest circle! That's so sad… unsettling… frightening… but it's the reality of our modern day lifestyle.
That's why I'm grateful for those who are dedicated to finding real cures… and better yet, successful, proven strategies for preventing the development of cancer in the first place.
The Truth About Cancer (TTAC) is a 9-part investigative report "mini-series" dedicated to educating the masses on natural, non-toxic cancer treatments and the physicians that successfully use them in their practice.
With a deep breath, I'm ready to sit down and participate once again. It's time. Join me in watching this FREE "docu-series" for the next 9 days. We will find inspiration, strategy, solutions, and healing.
If you miss an episode or would like to have permanent access to the information you hear, you will definitely be given the option to purchase the material… HOWEVER, that is not at all required in order for you to access it as it plays in the 9 day format.
Hope to see you there!
Dr. Colleen Trombley-VanHoogstraat ("Dr Mom Online") is a long-time presence in the field of Natural Health & Wellness. She is a Doctor of Chiropractic with 21 years of hands-on clinical experience in the Wellness Practice she shares with her husband, Dr. Marc VanHoogstraat, in Michigan. She is also the proud home schooling mom of two rather fabulous youngsters.
Her unique perspective of the science of Wellness  provides predictable solutions and transformational results for those struggling with chronic health issues, as well as those seeking lifelong health. To discover her simple strategies for creating better health through nutrition, movement, and mindset, regularly visit http://DrMomOnline.com,  http://Facebook.com/DrMomOnline and http://Twitter.com/DrMomOnline.
Also, check out her available books at http://amazon.com/author/drcolleen .
For more information about working privately with Dr. Colleen and Dr. Marc in an Investigative & Functional Health Recovery Program for any number of metabolic and health issues, such as thyroid imbalance, weight loss
resistance, hormonal imbalance, food sensitivity & gut permeability, autoimmune conditions, cellular detoxification, mercury detoxification, and more, please contact Dr. Colleen directly at info@drmomonline.com or http://Facebook.com/DrMomOnline. Food intolerance/sensitivity testing is also available to all U.S. residents. Personalized distance programs are available.
Finally, for a fresh approach to looking good, feeling good, and getting healthy, visit Dr. Colleen at https://Facebook.com/DrColleensHealthyFitWraps … a site dedicated to the quality products and opportunity offered by It Works! Global.